"ABLE DANGER" (hmmm sounds like it might be important doesn't it?)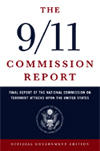 It's the story that is all over the news and the internet.
I won't go too much into it here.
To read more about "ABLE DANGER" check out the
FoxNews
or the
Associated Press
reports.
Other than the question in the title, it brings up two more important ones:
1.) Is the
9-11 Commission Report
incomplete?
AND
2.) Did the Commission intentionally omit information about ABLE DANGER from the 9-11 Report if they had known about it and why?